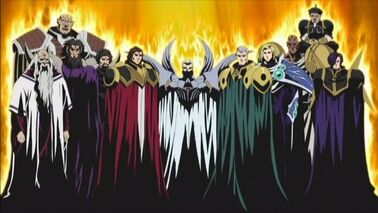 The Zoalords are the ruling council of Cronos in the Bioboosted Armour Guyver series. They are Zoanoids of the highest level, possessing power over all lesser Zoanoids within the organisation. In the grand scheme of the Creators, Zoanoids were to be the lowly soldiers in the Creators' ancient war with Zoalords functioning as generals and intermediaries.
Over the 400+ years of Cronos' existence, Archanfel has sought out eleven worthy subjects from around the Earth to join him in leading Cronos and mankind. By the late twentieth century, he had successfully recruited his full council, enhancing them with incredible powers similar to his own. The Zoalords each possess unique abilities, but all of them possess full telepathic control over lesser Zoanoids. Although Archanfel wished for a united council to manage the affairs of Cronos, the Zoalords have become divided since X-Day and some now work toward an agenda separate from Cronos.
The Zoalord Council
Community content is available under
CC-BY-SA
unless otherwise noted.