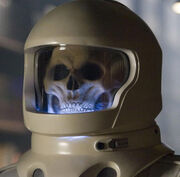 The Vashta Nerada (literally: the shadows that melt the flesh) are microscopic swarm creatures which, when present in a high enough concentration, are totally indistinguishable from shadows, and use this to their advantage in approaching and attacking prey. They are described as the "piranhas of the air", able to strip their victims to the bone in an instant in high enough densities. The Doctor says that almost every planet in the universe has some, including Earth, and claims that they can be seen as the specks of dust visible in unusually bright light. On most planets, however, Vashta Nerada exist in relatively low concentrations, feeding primarily on carrion, with attacks on people being comparatively rare. Their natural habitat is the forest or in one case, a library.
Community content is available under
CC-BY-SA
unless otherwise noted.