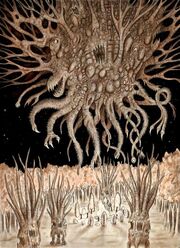 Shub-Niggurath, often associated with the phrase "The Black Goat of the Woods with a Thousand Young", is a deity in the Cthulhu Mythos of H. P. Lovecraft. The creature is sometimes referred to as "The Black Ram of The Forest with a Thousand Ewes," lending a male gender to the entity that is often thought of as female.
Shub-Niggurath is first mentioned in Lovecraft's revision story "The Last Test" (1928); she is never actually described in Lovecraft's fiction, but is frequently mentioned or called upon in incantations. Most of her development as a literary figure was carried out by other Mythos authors, including August Derleth, Robert Bloch and Ramsey Campbell.
August Derleth classified Shub-Niggurath as a Great Old One, but the Call of Cthulhu role-playing game classifies her as an Outer God. The CthulhuTech role-playing game, in turn, has returned to Derleth's classification of Shub-Niggurath as a Great Old One.
She is a perverse fertility deity said to appear as an enormous cloudy mass which extrudes black tentacles, slime-dripping mouths, and short, writhing goat legs. Small creatures are spat forth, which are either reconsumed into the miasmatic form or escape to some monstrous life elsewhere.
Community content is available under
CC-BY-SA
unless otherwise noted.