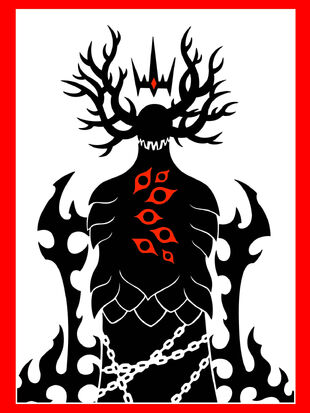 The Scarlet King, is an ancient, demonic/Lovecraftian god who is untold amounts of eons old and who seeks to destroy existence itself. He is often considered the big bad of the SCP Foundation-Mythos.
History
The Scarlet King was originally named as Khahrahk, and was born alongside the planting of the Tree of Knowledge. He was the smallest of his siblings, but the only one born with the ability of awareness, which brought great pain.
This led him to devour his siblings, which made him stronger, but also added to his pain. He then declared a war on creation itself, with the goal of ending everything, including the Tree, the creator and himself.
Over time he began subjugating the countless other gods, and some even decided to aid him in his conquest. Some of the notable were Jeser, Goran, Moloch and the Hanged King.
He also took the goddess Sanna as his wife, and sired seven daughters with her. The birth of the seven killed Sanna, and the Scarlet King married his seven daughter, putting a seal on each of them, so they wouldn't die like their mother did. The seven daughters birthed eldritch abominations known as "Leviathans". It is speculated that one of these Leviathans is SCP-682.
Daughters
Community content is available under
CC-BY-SA
unless otherwise noted.