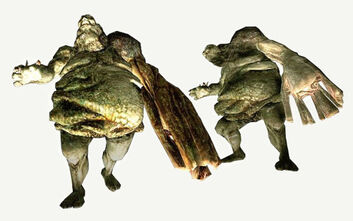 The Pluto is an obese B.O.W. that appears in Resident Evil: Dead Aim. This monster is a failed experiment created by Umbrella.
History
The Pluto was originally a condemned criminal whom Umbrella somehow acquired as a guinea pig for B.O.W. experiments. During initial experimentation, a metal rod was hammered into the subject's frontal lobe to alleviate pain. Days afterwards, his eyes were removed to test how his other senses would react.
Later into the experiment, the subject would gain mass, becoming overweight around the time he was given steroids to improve his muscles. Despite his immense size, he was incredibly fast and his acute hearing made him very accurate.
41 days later, the Pluto escaped containment and went on a killing spree. It would later be encountered and destroyed by US STRATCOM agent Bruce McGivern.
Capabilities
The Pluto is immensely bulky with a nearly impenetrable epidermis. Despite its size, it is also remarkably fast and will swiftly pursue prey, using its arms to grapple a victim and crush them against its bulk.
Weakness
Though its body is immune to gunfire, the Pluto possesses a clear weakness. Its head sports a gaping wound from which the brain is exposed, allowing enemies to target it.
Community content is available under
CC-BY-SA
unless otherwise noted.