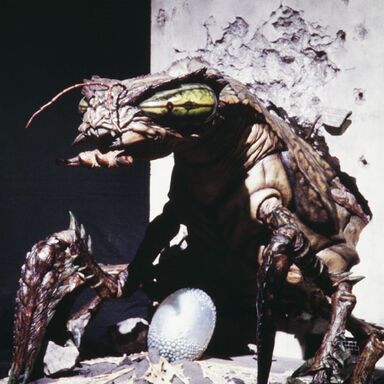 The
Meganulon
are a species of monster which feature in Toho Studios'
Godzilla
franchise.
Description
An insectoid species surviving from Earth's Cretaceous period, the Meganulon resemble gigantic terrestrial ants. They have six spiny limbs and a tough, chitinous carapace which is capable of withstanding both small arms fire and even heavy vehicle-mounted machine guns. Meganulon weigh around one metric ton and stand between two and eight metres tall.
History
When volcanic activity in Japan caused a prehistoric Meganulon egg to hatch, the newly awakened monsters quickly made their way to a working coal mine. There they proceeded to attack and eat several miners, then repeating the process with a group of soldiers who had been sent to destroy them, but were soon cornered by a hungry Rodan who made an easy meal out of them.
Many years later, a separate group of Meganulon attacked the King of the Monsters Godzilla, and after absorbing some of his power transferred it to their queen, transforming her into the kaiju known as Megaguirus. This action killed them in the process.
Whether any Meganulon still survive is unknown.
Community content is available under
CC-BY-SA
unless otherwise noted.