Wiki Targeted (Entertainment)
Play Sound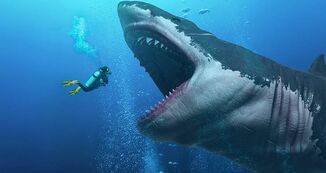 Megalodon (carcharocles megalodon) were a real species of shark that lived millions of years ago. Megalodon were believed to be very large and resembled a typical modern day great white shark. The word Megalodon means "Giant Tooth" in Greek. Megalodon can be seen in the 2018 film The Meg, although it's a fairly innacurate depiction of them.
Myth
Megalodon were believed to have lived from 23 million years ago to 2.6 million years ago. They were a giant species of shark whose teeth were first disovered around Western Europe, where people believed them to be the petrified tongues of serpents called "tongue stones" due to the size. The largest megalodon tooth found was 7 inches (17.8 centimeters) long. Based off of the size of its teeth, scientists believed the size of a megalodon could vary between 90-100 feet (27- 230meters), but in actuallity the size seemed to be around 65 feet (20 meters) with megalodon youth about 2 meters (6.6 feet) in length. Modern day sharks have only ever reached lengths of 20 feet (6 meters). Megalodon were believed to have weighed between 30 tons (30,000 kilograms or 66,000 pounds) and 65 tons (65,000 kilograms or 143,000 pounds). They had around 276 serrated teeth in their mouth and had a bite force of about 108,514 newtons to 182,201 newtons. Humans only have a bite force of 1,317 newtons, to compare. During the time that megalodon reigned, it was seemingly the top of the food chain. It appeared to kill its prey by attacking the flippers and tail, immobilizing the prey, before going in for the kill. Megalodon would feed on animals like whales, dolphins, and even other sharks. 
Habitat
Megalodon lived and hunted in shallow, warm waters that pretty much covered the earth during the time that they lived. They most likely lived near California and southern Australia, as well as in the Carribean, Mediteranean Sea, and the Bay of Bengal. Megalodon teeth have been discovered all over the world, except for in Antarctica. It is believed that the megalodon's habitat was destroyed when the ice age rolled around and water was locked up by the poles. Megalodon would have either starved or frozen to extinction.