Jurassic World: Dominion Dominates Fandom Wikis - The Loop
Play Sound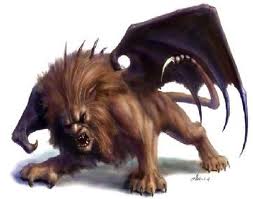 The manticore is a legendary magical creature originating from Persian folklore. It is similar to the Egyptian sphinx in that it is a magical hybrid that is largely feline. It possesses the body of a lion, a long scorpion-like tail, and sports an expansive pair of wings upon its back much like those of a bat or even a dragon. Persian mythology also originally describes the manticore as having a human face, though this particular trait has been overlooked or dismissed over time and so the creature has generally been described in modern times as having a lion's face.
The manticore is said to be a ferocious predator that feeds on human beings. Its scorpion tail delivers a poisonous sting that can either paralyze or kill prey, allowing the monster to devour its victim whole, leaving no bones, clothing or possessions behind.
In Popular Culture
Television
Marcie Fleach dressed as the Manticore in the Scooby-Doo! Mystery Incorporated episode Menace of the Manticore.
A European special agent dresses up as one of these creatures in the Be Cool, Scooby Doo! episode Mysteries on the Disorient Express in order to steal a classified microchip, although the disguise bears little resemblance to the Manticore of legend.
A manticore appears in the pilot episode of My Little Pony: Friendship Is Magic. The beast attacks the Mane Six characters but is only lashing out due to a thorn in its paw. Fluttershy pulls the thorn from the manticore's paw and it thanks her by licking her.
Video Games
Manticores appear in all the Scribblenauts games.