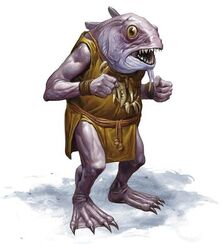 Kuo-toa, also known as gogglers and men-fish, are a fish-like race of amphibious monstrous humanoids that dwell in the Underdark. They have humanoid bodies and fish-like heads. Kuo Toa were once sane, but during the Illithid's rule over the world, they were captured by the thousands. They were simple humanoids that could not stand the psychic control exerted over them. As a result, they went insane. As a side effect because from their race's  psychological state, they are Neutral Evil. Koa Toa make many gods up to protect them from danger, The most notable the deity Blibdoolpoolp. If enough Kuo Toa believe in the same god, their consciousness causes that deity to become a physical entity. Kuo Toa speak Undercommon.
Community content is available under
CC-BY-SA
unless otherwise noted.