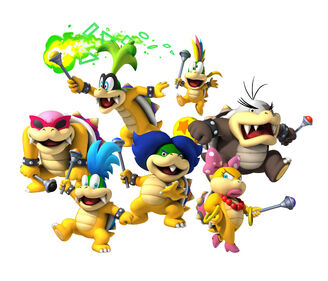 The Koopalings are a mischievous group of young Koopas from the Super Mario universe. They appear to be of the same Koopa race as Bowser since they each have spiked shells, distinct belly scales, muzzles and hair. At one time, they were portrayed as being Bowser's own children, but after returning from a lengthy absence from the game series, Nintendo have since announced that the Koopalings are not Bowser's own offspring. They do, however, serve the Koopa Troop as sub-bosses and command their own legions.
Members
Community content is available under
CC-BY-SA
unless otherwise noted.