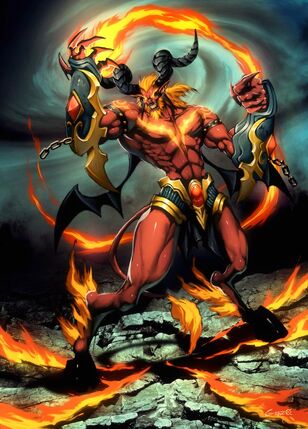 Ifrit are supernatural creatures in Arabic and Islamic folklore. They are in a class of infernal Jinn noted for their strength and cunning. An ifrit is an enormous winged creature of fire, either male or female, who lives underground and frequents ruins. Ifrits live in a society structured along ancient Arab tribal lines, complete with kings, tribes, and clans. They generally marry one another, but they can also marry humans. While ordinary weapons and forces have no power over them, they are susceptible to magic, which humans can use to kill them or to capture and enslave them. As with the jinn, an ifrit may be either a believer or an unbeliever, good or evil, but he is most often depicted as a wicked.
Stories of ifrits were highly prevalent in Egyptian culture up until the Second World War. British soldiers visiting the pyramids reported that they had been warned by the locals of ifrits living in the desert in the form of a dog which would lead them astray until they became lost. At this time Ifrits were also said to have the power to turn humans into animals themselves.
Powers and abilities
Enhanced Strength
Enhanced Speed
Flight
Invisibility
Pain Suppression
Shapeshifting
Teleportation
Transformation
Invulnerability
Enhanced Immunity
Pyromancy/Pyrokinesis
Weaknesses
Susceptible to magic
Can be enslaved.
Community content is available under
CC-BY-SA
unless otherwise noted.