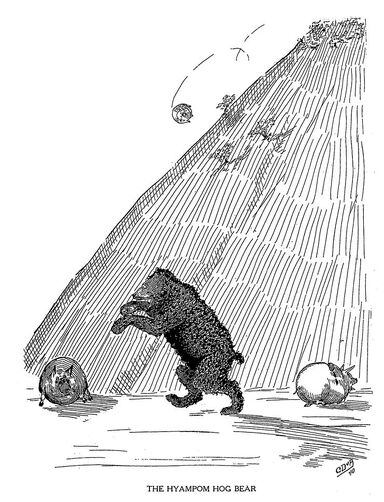 The Hyampom Hog Bear is a Fearsome Critter which originated in turn-of-the-century North American folklore.
Description
Known to primarily inhabit Northwestern California, the Hog Bear is physically very similar to the black and brown bears of the Americas to which it is closely related. It is possessed of a much sharper-looking muzzle however, and its fur is tightly curled unlike its larger cousins.
Behaviour
The countryside of Northern California was perfect for the raising of pigs in the latter part of the nineteenth century, and much of that region's economy was reliant on the production of pork. The lower mountainsides played host to great swathes of oak trees which produced the sweet and nutritious acorns which were the pigs' favourite food. As the acorns higher up the mountain ripened later in the season than the ones lower down, the hogs slowly made their way up the mountain, eating the fallen acorns along the way. By around Christmas, the last of the acorns had ripened, and the pigs were by this time so fat that they were hardly capable of moving. It would be at this time that the Hog Bear struck; finding such an abundance of succulent meat available, the bear would take only a single bite from each, causing the animals to bleed out and enraging the farmer.
History
A Mr. Eugene S. Bruce of the Forestry Services was reported to have captured a Hog Bear cub which he proceeded to donate to the National Zoo in Washington for observation and developmental study, but no records of this creature remain in existence today.
Further reading
"The Hyampom Hog Bear" from Fearsome Creatures of the Lumberwoods (1910) by William T. Cox
Community content is available under
CC-BY-SA
unless otherwise noted.