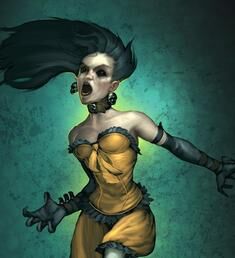 Hollow Waifs are undead Outcast creatures which appear in Wyrd Games' Malifaux universe.
Description
Not quite alive, but not truly dead either, Hollow Waifs are beings which were conceived of by aging Outcast Master Leveticus. Corpses whose spirits have been shackled to the mortal realm, with the Hollow Waifs, Leviticus has created a link to the afterlife which allows him to circumvent death.
Not so much servants, as lost souls who wander around in his wake, Hollow Waifs allow Leviticus - a man in his later years - to die, before latching on to the anchors which the Waifs provide in the hereafter and use them to drag himself back into the land of the living by inhabiting the body of the Waif. In this way, Leviticus has enabled himself to extend his life far further than its natural span and, more than once, even resurrected himself after being slain at the hands of an opponent.
For some reason, Leviticus has only been able to create Hollow Waifs from young women and, much to his chagrin, once inhabiting the body of one of these damned creatures, has proven unable to stop it from quickly transmuting itself into the form of the elderly man which he was. This has required Leveticus to procure a steady supply of these bodies, an act which has garnered him a rather unsavoury reputation.
Community content is available under
CC-BY-SA
unless otherwise noted.