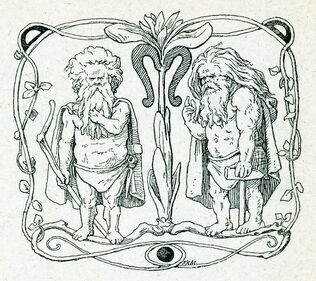 A gnome is a diminutive spirit in Renaissance magic and alchemy, first introduced by Paracelsus in the 16th Century and later adopted by more recent authors including those of modern fantasy literature. Its characteristics have been reinterpreted to suit the needs of various story-tellers, but it is typically said to be a small, humanoid creature that lives underground.
Gnomes in alchemy
The word comes from Renaissance Latin gnomus, which first appears in the works of 16th century Swiss alchemist Paracelsus. He is perhaps deriving the term from Latin gēnomos (itself representing a Greek γη-νομος, literally "earth-dweller"). In this case, the omission of the ē is, as the Oxford English Dictionary (OED) calls it, a blunder. Alternatively, the term may be an original invention of Paracelsus.
Paracelsus classifies gnomes as earth elementals. He describes them as two spans high, very reluctant to interact with humans, and able to move through solid earth as easily as humans move through air.
The chthonic, or earth-dwelling, spirit has precedents in numerous ancient and medieval mythologies, often guarding mines and precious underground treasures, notably in the Germanic dwarves and the Greek Chalybes, Telchines or Dactyls.