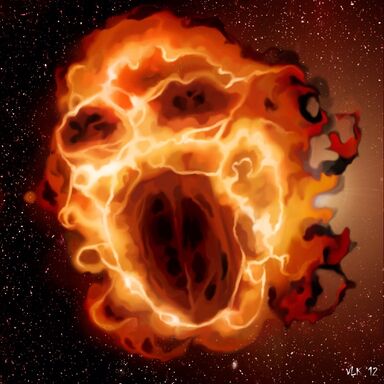 Cthugha
, also
The Living Flame
or
The Burning One
, is a
Great Old One
who features in the H.P. Lovecraft-inspired
Cthulhu Mythos
.
Description
Very little is known about this entity, but what information does exist is truly terrifying: an elemental spirit of fire, Cthugha's physical form is that of a ball of dull orange plasma the size of a small planet, covered in ugly dark blotches and spouting great arcs of spinning flame. It originally hails from the star system Fomalhaut, but is now held in invisible chains by the Elder Gods somewhere in an undisclosed location. Unlike many of the other Great Old Ones, Cthugha is also known to be a deadly enemy of the Outer Gods.
In one story of Cthugha, a group of cultists in Wisconsin attempted to summon the Living Flame in an effort to drive off an avatar of Nyarlathotep.
The Flame Creatures of Cthugha
Although it is possible to encounter these entities on their own (especially through use of the correct summoning spells), the Flame Creatures of Cthugha, or Fire Vampires as they are also known, invariably accompany their master on those occasions that he is summoned to Earth. They appear as a swarm of bright specks surrounding Cthugha, and will go about the business of igniting everything that they can when in his presence.
Family
Appearances
The Dweller in Darkness (1944), by August Derleth.
The House on Curwen Street (1944), by August Derleth.
Elysia (1989), by Brian Lumley.
The Black Mirror (1996), by John S. Glasby.
Cthugha also appears as one of the antagonists in Fantasy Flight Games' Arkham Horror board game.
Community content is available under
CC-BY-SA
unless otherwise noted.