Wiki Targeted (Entertainment)
Play Sound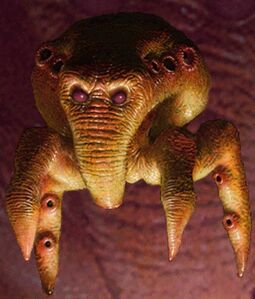 Brainsuckers are small creatures that show clear signs of biological tampering on cellular level.
Overview
Brainsucker looks like a hairless, wrinkly orange hued balloon about the size of a koala bear that has four appendages for movement. It has a long proboscis that curls under it, and deep sunken eyes. It moves at a pace something in between average walking and running speed of a an adult person. 
The creature cannot be explained except by being constructed by some other entity for a singular purpose. They have no reproductive organs, digestive system or even means to ingest food. They have no brain structure or other organs than a simple heart and circulatory system for blood. If they cannot find prey soon enough, they die after a maximum of eight hours have passed since their hatching.
Role in invasion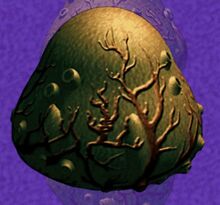 Brainsuckers are delivered in small pods to locations where aliens expect human traffic. These pods hatch at the presence of human genome and emerging brainsucker is relentlessly drawn towards closest target. Sometimes other aliens (most commonly Anthropods, and occasionally Skeletoids) carry special organic weapons designed to launch brainsucker pods to great distances. 
This bioweapon can jump from surprising lengths and accurately latches on to it's target's head. Name of the creature is misleading, because once Brainsucker is over victim's head, it navigates it's proboscis down the victim's throat, and does this with alarming precision - even smallest opening in head protection is sufficient for this attack. Once it injects the victim with a dose of Micronoids, the brainsucker dies. Very soon after this attack the host loses control of their action and becomes permanently controlled by aliens.