Wiki Targeted (Entertainment)
Play Sound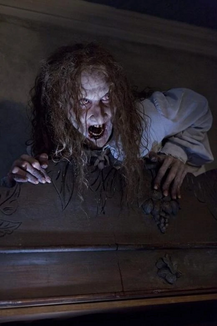 Bathsheba Sherman is the evil spirit of a devil worshiper from the year 1800, she was the main antagonist of the horror film released in 2013, "The Conjuring", based on the true story of the Enchantment in Harrisville, Rhode Island.
She was played by Joseph Bishara, who also played the Red Demon in Insidious and the Entity in the Conjuring prequel, Annabelle.
Background
In 1863, Bathsheba married a wealthy farmer under the surname "Sherman" and gave birth to a boy. When she was one week old, her husband caught her trying to sacrifice her baby to the Devil. Furious, she Bathsheba climbed to the top of a tree, proclaimed her love for Satan and cursed all who would take the land from her. Bathsheba then hanged herself, committing suicide that is why Ed and Lorraine Warren see her hanged.
Bathsheba's spirit continued to reside in the land, haunting her ancient estate. True to her curse, she would hunt down the families that would move into her home. She bathsheba would continually torment the family and eventually possess the mother of the family and she would kill the children before forcing the mothers to commit suicide. The spirits of Bathsheba's victims continued to roam her home, along with her, living in constant fear of her curse.
The case of the Perrons
In 1971, Roger and Carolyn Perron move into the Bathsheba home with their five daughters Andrea, Nancy, Christine, Cindy, and April, resulting in Bathsheba turning her attention to persecuting them in retaliation for taking their land. Sadie, the family dog, senses the presence of spirits in the house and refuses to enter. Bathsheba soon brutally kills the dog.
Over the next few nights, the Perrons experience multiple paranormal events as a result of Bathsheba and the other spirits. Although the other spirits do not wish any harm towards the family and only unwittingly invoke fear towards them, Bathsheba then intentionally torments, removing furniture and causing all the clocks in the house to stop at 3:07 AM, the hour of the devil. One night, Bathshseba tugs on Christine's leg and reveals himself to her, leading Christine to deduce that the entity wishes the family to die. At night, Carolyn is distracted by one of the other spirits in the house, to which Bathsheba uses the distraction to attack Andrea and Cindy. However, she disappears when the parents investigate.