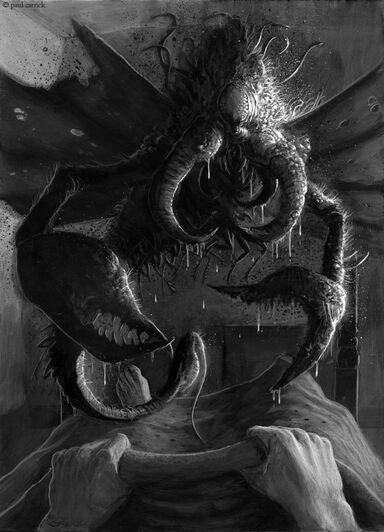 Baoht Z'uqqa-Mogg
,
The Bringer of Pestilence
, is a creature from the H.P. Lovecraft-inspired
Cthulhu Mythos
.
Description
Baoht Z'uqqa-Mogg is a Great Old One who once inhabited the now-dead planet of Shaggai. Appearing as an enormous arachnid-being with some similarities to a scorpion, Baoht has huge compound eyes, myriad antennae, ant-like mandibles which drip with a highly toxic saliva, and a pair of expansive, leathery wings. It can often be found surrounded by a swarm of flying insects which have a venomous sting and is worshiped as a god by several cults of ghouls, although it has no human followers.
History
Originating on the now-dead planet of Shaggai, when the Outer God Ghroth bombarded the planet with it's crimson radiation, Baoht Z'uqqa-Mogg followed those few Shan who managed to escape their dying world, finally reaching Earth in the 17th century where he remains to this day.
Appearances
The Madness Out of Time (1995), by Lin Carter.
This Village Was Made for Us (2012), by Christopher Smith Adair.